While I was running around the grid the other day I saw a male avatar named "Edward" and his group titler said "Cullen Family" . Of course this grabbed my attention because I'm a Twilight fan. I sent him a message and said, "I guess you are a big Twilight fan?" he said "Yes". He made his avatar look very much like Robert Pattinson. On a scale of 1 to 10 I'd give it an 8 because it really did look very well done. I should have taken a picture but I was Glammered. *Giggle* He also told me he was part of a sim that is all about Twilight. Here is the SURL:
*Twilight* - Forks, Washington
So the other night I Tp'ed on over to check it out. The first thing I see is the Welcome sign. VERY COOL! Postcard shot! Hee Hee!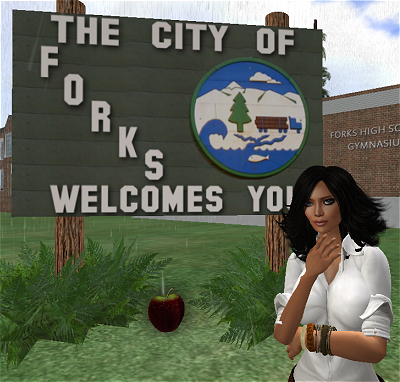 The school is on one side, stores on the other, with the little diner, a couple of rows of city houses, and the Cullen family house, that is not open to the public it's on the hill. You can still see the Cullen family house from afar you just can't distrupt their privacy without being invited into the vampire's home.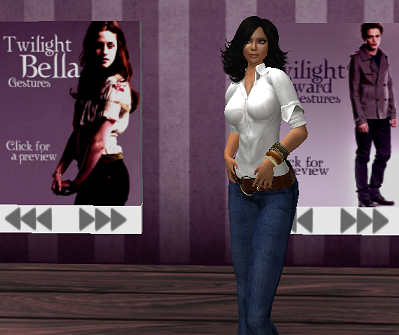 The stores are all Twilight themed. There is a gesture shop full of cool gestures from the movie and other things. I just had to get my "Edwards Girlfriend" sticker they had there. *swoon* I took it off right away just in case I ran into Bella. I'll wear it at home in the safety of my skybox. Hee Hee! They also have a freebie gift bag there with Twilight goodies and a gesture.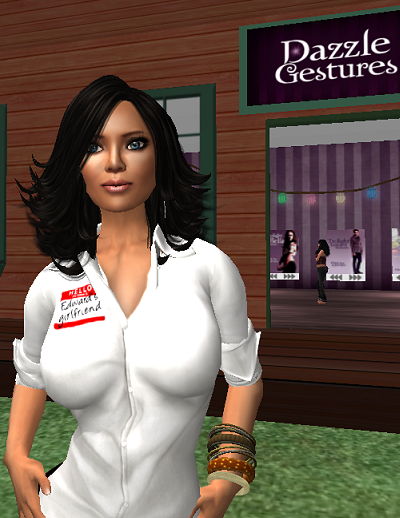 There are clothing shops with Twilight shirts, an avatar body shop to help you look more like a member of the Twilight family, an art work store and a pose shop. At the pose shop we couldn't resist buying the spidermonkey pose. I'll have to take a picture soon with it. *Smiles*
You can see they are still working on this project. From what I've seen so far it looks great and it looks fun! I'm glad I got to visit. The day I took my trip to Forks it was raining and everyone knows how much I love to see it rain on SL.
It's so nice to find friends who like some of the same things you do. That way you have someone to talk to about it. So if you are a Twilight fan like me take a trip to Forks and wander around. I had fun and I hope you do.