The SL Jewelry Fair 2009 is now in full swing! It started Friday September 18th and goes through Sunday September 27th. For more detailed information about the Jewelry Fair please visit the main webpage link below:
Jewelers of SL
They will give you all 8 landmarks to use so you can visit the fair. Please TP in using a random choice from the 8 landmarks so everyone can divide up the traffic and help reduce lag.
Before you go make sure you are dressed correctly unlike myself. *Blushing* I was wearing scripted shoes and hair which I changed halfway through the fair. *Smiles*
The Jewelry Fair is divided into seasons. I think it looked beautiful and was very well laid out. It looks just like a maze. Wherever you start it doesn't matter because at the end after you follow the path you end up right where you started. It's great you don't miss any wrong turns or get mixed up. The sections were also decorated to match the seasons as you can see from my aerial shot. *Smiles*
I started in the Auction area this morning. So many wonderful things you can bid on. Please go check it out. 100% of the proceeds from vendor entry fees, one of a kind auctions, paid sponsors, events/games during the fair are going to
OXFAM
.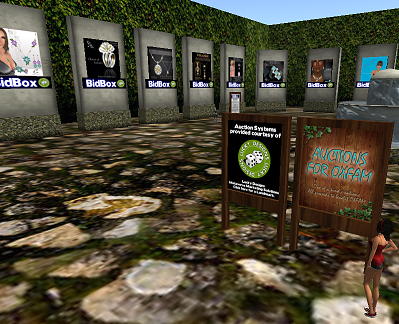 In almost every booth, cart or setup there was a free gift. It was wonderful! I felt totally spoiled today. In some places they had one for a male and female. Plus, plus!!
While exploring the Jewelry Fair I even stopped by some of my plurking friends areas. It was so wonderful to see how talented everyone is. This is my friends
DarionMonkee_Levitt's
area. I picked up some beautiful things from here that I will show you in my next blog "SL Jewelery Fair 2009 Part Dos". *Giggle*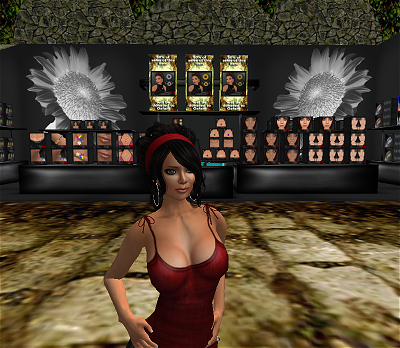 If you look at the picture above you will see the three signs in row at the top. Many of the vendors had them placed up and 50% of the money goes towards
OXFAM
. I think that was wonderful.
I hope you go explore the fair! I IM'ed a few of my friends and took them along with me. It was so much fun running around looking at everything. I bought way to much but I can't wait to wear it all. I had a wonderful day at the fair. *Smiles*
Love Quote of the Day:
We can only learn to love by loving.
Iris Murdoch