Yesterday when I got home from work I right away grabbed Antony and we started to TP all over the grid. We were on a mission to find things for his extreme makeover. I got him lost a couple of times and I also was with him when he exprienced his first lag sim. When the night was done I was exhausted but I felt good. Antony was a new man!

Here is the before shot of noob Antony. Day one in SL.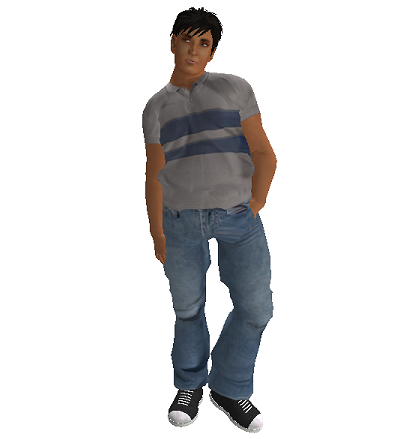 Here is the after shot of Antony. Day two in SL.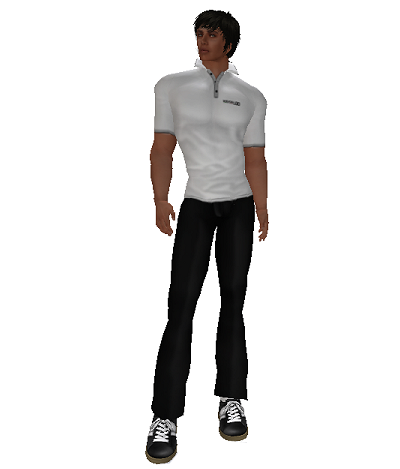 THE LIST OF THINGS WE USED FOR THE EXTREME MAKEOVER:
CLOTHES-
Musashi-Do Main Fashion Shop
-FREEBIE For Gentlemen. They have it in white and black. TP on over there right away and grab yours guys! Hit the Subscribe-O-Matic while you are there.
AO –
Long Awkward Pose
FREE to everyone 30 days or younger
SKIN –
IMAGEN
FREE Skin pack to everyone 30 days or younger He is wearing Ader-Oeste-Shaved (Bald/Smooth)
BODY SHAPE –
Belleza skin (HQ skins shapes)
- Johan Shape 600L
SHOES –
HOC Industries - House of Curios
–Bolts Sneakers Scripted in 16 colors 40L
HAIR –
Gritty Kitty
–Hat Hair in Black 130L
EYES –
Poetic Colors
-FREE Two Free sets of eyes there. One for any person under 30 days old. The other is for anyone. It's located on the back wall of the store. They just put out today the fall colored eyes and a brand new freebie so go on over and grab your today!

Here is a close up shot of Antony.

We had a lot of fun! Thank you everyone who helped us along our extreme makeover trip in SL. You made this so much easier for us and fun! (( BIG HUGS )) THANK YOU! I love my Blog & Plurk friends! YOU ALL ROCK!
Love Quote of the Day:
No one has ever loved anyone the way everyone wants to be loved.
Mignon McLaughlin