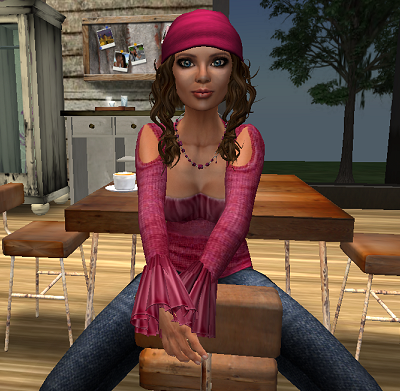 My friend
Terri Zhangsun
has issued a
Blogger Challenge
. She asked us all what our top 5 favorite things are in SL for the year 2009. Here is my answer to her blogger challenge. *Smiles*
1. My number one favorite thing about SL is my FRIENDS. I have too many to name one by one but I would be lost without them. They make my SL what it is. Each and every day they touch my heart in some way by what they do or say. We may not talk every day but just knowing they are around makes me happy. I like sharing things with my friends like, rezday parties, weddings, holidays, clubbing, creating, and just hanging out. They mean the SL world to me and I'm grateful to call each and every one of them my friends. Mwah!
2. My number two favorite thing about SL is MY HOME/LAND. It is the second place I've lived in SL and I loved it from the moment I moved in until this very day. It's where I spend a great deal of my SL time. It's my place to call home and I'm surrounded by friends and great amazing people who also live on the island with me. It changes for the seasons, there are parties and events that happen there. The people that live around me are the best neighbors in all of the SL world. I've had neighbors move in and out around me but we all still remain friends. It's a wonderful place to live and I'm happy to be there.
3.
PLURK
is my number three favorite thing about SL. It's not part of SL but we've made it a SL community of friends all involved in someway with SL. It's my favorite thing to do when I'm not in SL and want to know what's going on. I've met so many wonderful people on
PLURK
. They make me laugh and smile all the time. I find out all the news and events from there most of the time. They give me heads up on things that I would have missed if I didn't have
PLURK
. If you aren't on
PLURK
yet you should join! It's so much fun and you meet some really wonderful people.
4. My number 4 favorite thing in SL is CUDDLE TIME. I have cuddle furniture all over my SL home and cuddle swings, hammocks and trees. You will never see me buy a piece of furniture that doesn't let me cuddle. It's one of my favorite things to do.
5. My inventory is full of the amazing creations from
TRUTH
. I would just DIE if my folder went missing. Well not die but I'd be very sad. I didn't blog about the hair in my top 3 favorite things because I could not pick one hair style. But in this case I can blog about how wonderful
TRUTH
hair is and how it is one of my favorite things in SL. I get all excited every week when his new creations come out. Just ask my
PLURK
timeline they know! *Giggle*

Do you know what your
TOP FIVE FAVORITE THINGS IN SL ARE FOR 2009?

What I'm wearing:
Hair:
TRUTH
-Babyhoney
Necklace:
*SiSSi*
-Pebble
Top:
Mischief Fashions
-Freedom Sweater
Pants:
Mischief Fashions
-Everyday Jeans
Shoes:
Surf Couture
- Elsa Boots
Love Quote of the Day:
Falling in love consists merely in uncorking the imagination and bottling the common sense.
Helen Rowland