Today I was on a mission to take a picture for the
DM DESIGNS
contest. Check out this blog post for more information on that contest
DM Designs Customer Appreciation Photo Drawing
. I knew what I wanted to do but I needed to find new places to take pictures and explore. So I contacted my friend
PJ Trenton
and asked him to hook me up with some great landmarks. He did more than hook me up he set me up to be busy for quite sometime with all the great places he'll have me exploring. You totally rock
PJ
thank you!
So after looking over all my new places to explore I picked the
*CHAKRYN FOREST*
for my first trip today. All I can say is "Awe" it's beautiful. The graphics of this forest are so pretty and a very enchanting place to explore. If you haven't been there before it's a MUST SEE place.
Here is the picture I took there today for the contest. *Smiles*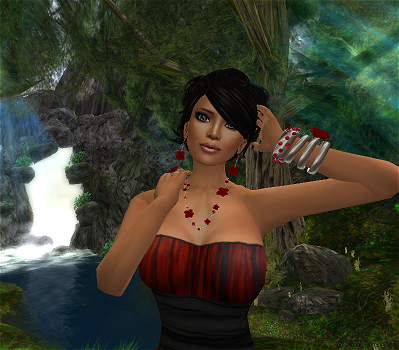 All the jewelry I am wearing in this picture is from
DM DESIGNS
and the set is called Gems'n'Roses Red/Silver. I love it and I've been running around the grid wearing it all day.
So I only really wanted to go here to take my picture and then I was going to do other things but those plans quickly changed when I started to explore the island. There are four Quest you can do here. A Water, Hobbit, Orb, & Chakryn Fae Alter Quest.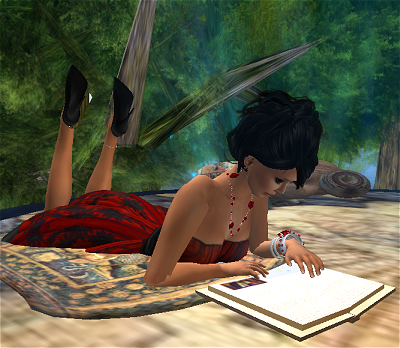 I sat down to read the rules of the quest and quickly started my mission. It was so much fun! You run around the whole island looking for items on your quest.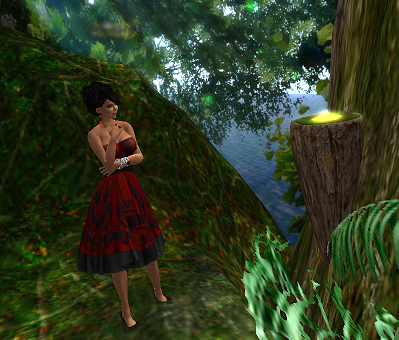 While I was running along minding my own business I had this strange feeling I was being watched. *Giggle*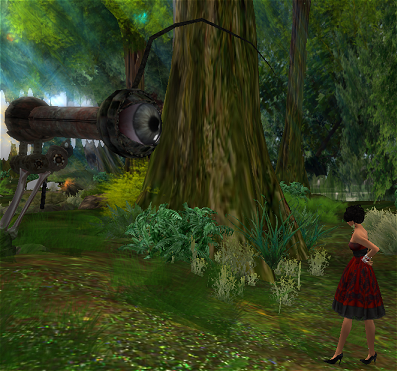 Around every turn there is art. Like this piece of the sleeping lady. It looks so very real. Her face is just beautiful and she looks so peaceful under the enchanted trees.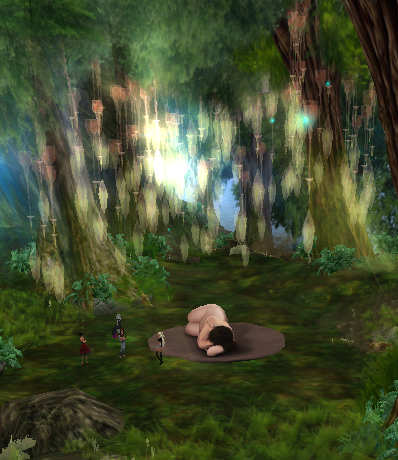 I was climbing the mountains and one of the paths lead up to an entrence to a cave. I don't know what the scary four faces wanted from me but I wanted to get away from their following head so I took off into the dark cave to explore.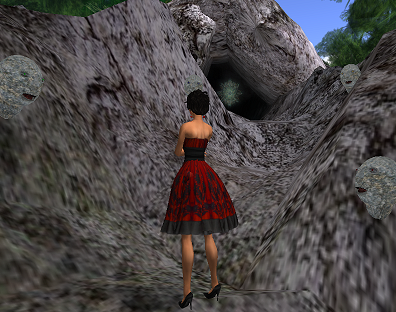 It was REALLY dark inside the cave so I pulled out my flashlight and decided to be brave and see what was inside the depths. I just prayed it wasn't something scary or something that would pop out at me because I'm such a chicken. *Giggle*
I don't want to ruin the surprise but the end isn't scary at all but truly pretty and secret. I'll show you a picture of one of the things I saw at the end of the cave. *Smiles*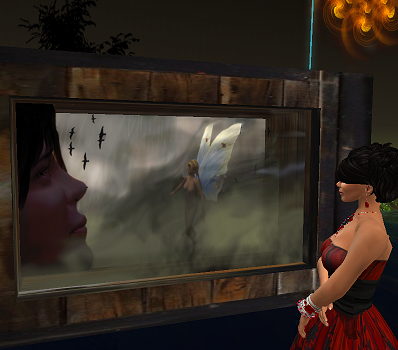 After I climbed out of the cave I started right back on my quest. I took a rest near the Orb Quest table. I climbed mountains in heels. *Giggle* Yes, that's how I roll.
I hope you get a chance to explore this wonderful place. If you need help with clues of some of the locations on the quest just ask me. I've been there I've done that. Hee hee!
Love Quote of the Day:
Love makes your soul crawl out from its hiding place.
Zora Neale Hurston