Last night my friend
Kaaden Carson
DJ'ed at
The Blue Note Retro Jazz Lounge
. I had never been there and I've really been wanting to go.

On Wednesday nights
from 7:30-10pm SLT they play
'Music for Lovers'

So I IM'ed Kaaden and she sent me the landmark. I TP'ed on over and had the best time. The music was wonderful and so was the company of friends.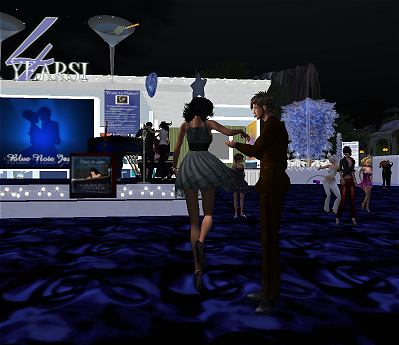 This place was beautiful, romantic and unlike those other places NO LAG! It was a breath of fresh air and I will be going back to dance there more often.

The Blue Note Retro Jazz Lounge just celebrated it's
4th aniversary on SL.
CONGRATULATIONS!
*Smiles*

There are other events and times of DJing. I didn't get those but go visit and check out the wonderful place for yourself. I know a lot of my friends love this type of music. I hope we can all go dancing soon.
Love Quote of the Day:
Love is being stupid together.
Paul Valery