Today my friend Newraider invited me to join him at the
Virtual London Fashion Show
. It's going on all week. He had a VIP PASS for me and we TP'ed on over just in time to watch MIDI's designs.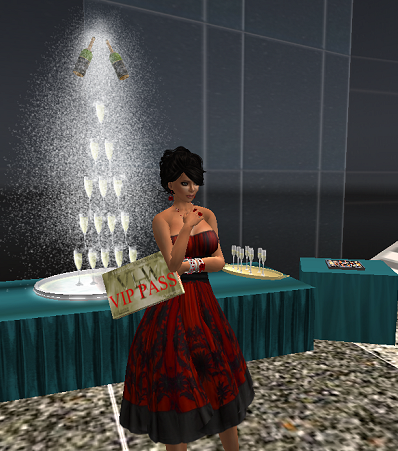 We walked in, took a seat and watched the show. After a while I actually moved up to the front row. Hey why not get the best seats in the house.
This was my very first fashion show and I was really excited to see how it worked on SL. The show started off with the DJ saying:
[14:01] Ruskin Thor shouts: Ladies and Gentleman....... Virtual London Fashion Week Gives you..... MIDI!!!!!!!
Then the MC said:
[14:01] shaza Denver shouts: Midi Aeon, CEO of MIDI's and Midi Design Studio, is known for trend setting fashions and and a sexy, edgy personal style. Midi entered the fashion world in 2008 as a reseller of the finest fashion available in SL. Her designers include Lady Thera Art in Fashion, MEB and Rei2 Fashion shoes.
[14:02] shaza Denver shouts: Now hot off the cutting room floor, Midi launches her new personal fashion line for the first time here at Virtual London Fashion Week! Simmering, sexy swimwear, trendy Bitch Booties, sensational stilettos and fashion jewelry. Midi works handcrafted prims and scupties into her designs and hers are all orignal designs.
The whole event was very cool to see for the very first time. I liked when the MC told you what was going to be shown next.
[14:35] shaza Denver shouts: Welcome back Elaine Greene to show us Midi's Monokini is Scrafitto Black. Scrafitto is Midi's signature design and is available in white and blue as well. The monokini series is perfect for water sports or just a lazy day in the sun. Flexi tie and the side adds interest and Elaine looks lovely in this suit today, doesn't she?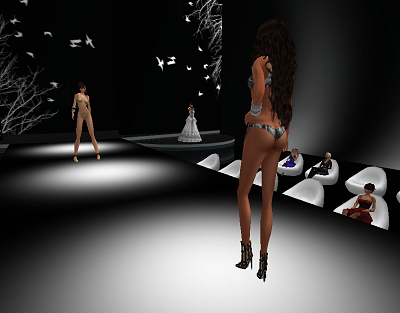 Here is the list of events that are going on this week. If you like fashion come check it out. They have booths set up and most of them have gifts for visitors. You can also see from the list of designers that some of your favorites could be on there. I know some of mine are. *Smiles*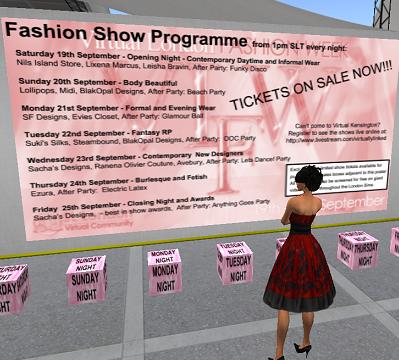 Go check out the
Virtual London Fashion Week Events
!