When I saw the new
Linc Wraps Tattoo
I was impressed! It's so hard to find really well made tattoos that wrap around your body and look good. I love the way this one looks wrapped around me.
Today was also the first day I played with my toes. *Giggle* My new
J's
sandals I just love and now that I know what I'm doing when painting my toe nails I might just run out to the stores and buy some more.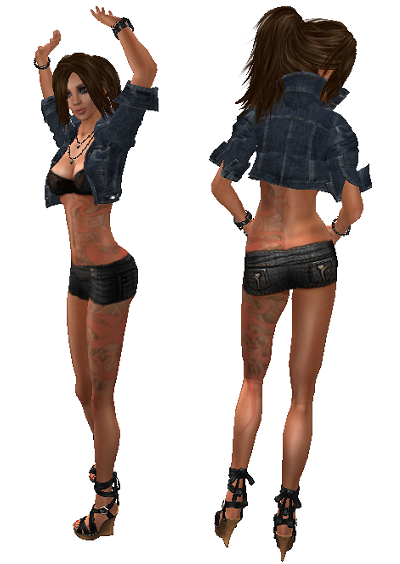 What I'm wearing:
Hair:
Truth
- Harper
Jacket:
*COCO*
- Denim Jacket Midnight
Top:
*Linc*
- Charm Top Black Skuliieh
Skirt:
*Linc*
- Low Mini Jeans Skirt Black Plain
Necklace:
*SiSSi*
- Rock mah Skull
Right Bracelet:
*SiSSi*
- Beads-Chain-BraceletV2
Left Bracelet:
edge grafica
-37 bracelet(Black+Black)
Earrings:
*BOOM*
- G Hoop Earrings
Tattoo:
*Linc*
- Wraps Tattoo (Review)
Shoes:
J's
-Real Toe Studded Wedge Sandals BLACK
Poses:
GLITTERATI