We found this adorable couple pose at
Sinsity
called "Sweet As You Are". It's one of the hunt gifts at the store. Take time to run on by
Sinsity
and check out all the wonderful poses there. You don't want to miss adding this one to your collection.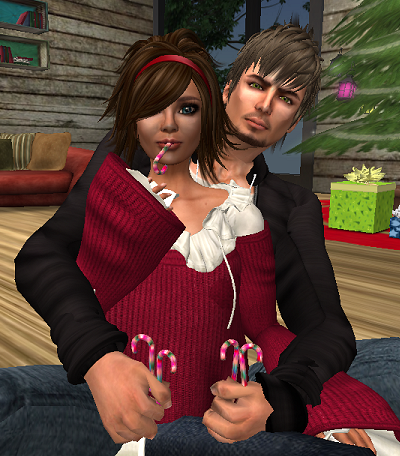 I saw this beautiful frilly blouse at
COCO's
the other day and I just had to have it. It's so romantic and looks so soft and comfy. I just want to curl up on the sofa and cuddle in it.
My new hair style is from
Truth
my favorite hair store inworld if you haven't noticed yet by all my blogs. *Giggle*
Truth
just released four new styles and all of them are must haves.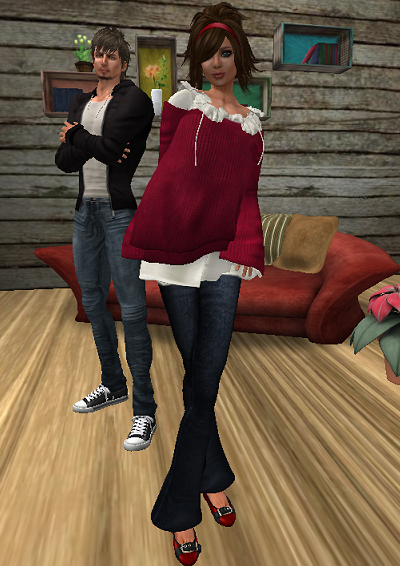 I stumbled into a new store yesterday called
Picnic
and found these cute antique wood boxes I'm using behind me for shelves. Love how they look. This is one of the many stores that will be involved in the
Winter Choice 2009 Event
that starts December 20, 2009 thru January 18, 2010. Visit the
Winter Choice 2009
website and get more information.
Picnic
has already added some of the stamp cards to the stores purchases and when I bought the antique wood boxes I got my first one! WooT WooT! Have fun exploring and shopping I sure did. *Giggle*
What I'm wearing:
Hair:
Truth
- Lydia
Top:
*COCO*
- Frilly Blouse & Sweater Rose
Jeans:
Mischief Fashions
- EveryDay Jeans (Dark)
Shoes:
Pixel Mode
- Freay Flats
Poses:
fri.day
What he is wearing:
Hair:
Uw.St
Jacket:
Atomic
Everyday Hoodie (Black)
Shirt:
magi take shop
Sports Tanks
Jeans:
[ Inone Style ]
Kokoro Jeans
Shoes:
HOC Industries
HOCS Lowtops
Poses:
Long Awkward Pose
Love Quote of the Day:
Love is the child of illusion and the parent of disillusion.
Miguel de Unamuno