I'm in love with the new gown
Musashi-Do
made called Brocade Princess. It's so beautiful. *Happy sigh* I love the way it moves when I dance that was a big plus in my book besides how pretty it is. I've been dancing in it all night and I had to share it with all of you.
My
Brocade Princess gown
has a little additional detail, the pattern of the gown matches that of the waistcoats of the
Party in Venezia tuxedo
, that Boss is wearing.
Brocade Princess gown
comes in six deep beautiful colors, Black, Blue, Green, Marron, Red,and Teal. The Brocade Princess gown is available both as a fatpack with all six colors (for 2199 L$) or as sepatate colors (priced 499 L$ each). Go visit
Musashi-Do
and see all of his beautiful creations you will not be sorry.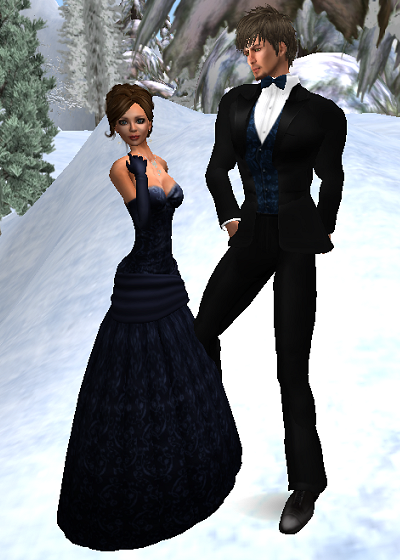 What I'm wearing:
Hair:
Truth
- Cameron
Dress:
Musashi-Do
- Brocade Princess-Blue (Review)
Jewelry:
EarthStones
- Snow Flurry Pearl Snowflake Set
Poses:
*ELISA*
What Boss is wearing:
Hair:
Uw.St
Suit:
Musashi-Do
- Party in Venezia (Blue)
Shoes:
Kalnins
Love Quote of the Day:
If thou must love me, let it be for naught except for love's sake only.
Elizabeth Barrett Browning