It's all about these AMAZING jackets from
SEY
called "Hunter". The textures are wonderful and it's made so well it fits my body easily and moves with me like it was made just for me. Of course I had to wear the red one because it's quickly becoming my favorite color in world, I wear it all the time. The jacket comes in both male and female versions. There are six differnt colors: Red, Black, Black2, Green, Brown, and Blue.
My newest toy is my Voodoo doll from
*SiSSi*
's store. Isn't there just one person out there you'd just love to stick a push pin in? You don't have to answer. Hee hee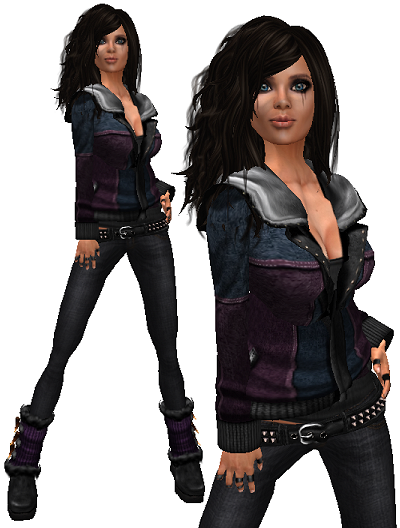 As you can see I haven't taken my new boots off from
SEY
yet. I can't help it I LOVE THEM. Don't be shocked if in my next blog post I'm still wearing them. *wink*
What I'm wearing:
Hair:
Truth
- Avery
Jacket:
SEY
-Hunter FemalePart (Red) (Review)
Undershirt:
Mischief Fashions
-Afternoon Tank (Ebony)
Pants:
* Deviance *
- Jeans (Plain Black)
Belt:
.:Hermony:.
- Rock`nRolla-Belt (Black Rust)
Mouth Toy:
*SiSSi*
-Voodoo Doll
Shoes:
SEY
- Layer's boots[D]Knit
Finger Tape:
*Linc*
Poses: OnTheCover and
fri.day
Love Quote of the Day:
In love the paradox occurs that two beings become one and yet remain two.
Erich Fromm