I'm wearing the cuties hair from
Truth
tonight. *Giggle* I just adore it! I heard that
*ARGRACE*
put out a gift for us all to celebrate their 2year aniversary. It's this beautiful scarf I'm wearing and it comes in different styles. One for males and females so make sure you run on down there and pick yours up soon!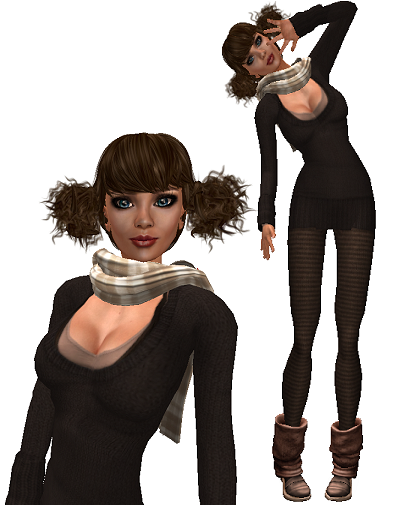 *Linc*
has the sexiest sweater dresses and the cuties wool socks. They make a great combo for a warm outfit. I also have to share my new boots with you. They are from
Surf Couture
. I loved them so much I bought the whole fat pack. *Smiles* Go out and explore the shops and have fun!
What I'm wearing:
Hair:
Truth
- Geri
Scarf:
*ARGRACE*
Hooded Scarf (FREE)
Dress:
*Linc*
- Sweater dress Brown (Review)
Under shirt:
fri.day
- Longsleeve Layering Tee (Brown)
Socks:
*Linc*
- Wool Panty Brown (Review)
Shoes:
Surf Couture
- Elsa Boots
Poses:
GLITTERATI
and
[PDA]
Love Quote of the Day:
Once a woman has forgiven her man, she must not reheat his sins for breakfast.
Marlene Dietrich