The other day a couple of my friends on
Plurk
were talking about killing zombies at a place called
Raccoon City
. So when Boss got back in town from a trip I grabbed him and we took off to go shoot us some Zombies. This is the first time I've ever done anything like this. I was really excited!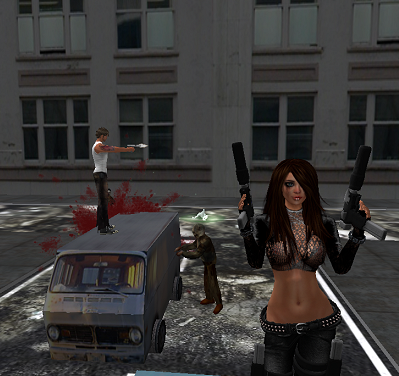 Once you TP into
Raccoon City
you get a set of rules you must read. Easy rules to follow just kill zombies, must wear DSC Hud, stuff like that, all doable rules. The DSC hud is inside the second main room and is 75L. Get your guns on and then walk into the complex and go into the city limits and start shooting those zombies!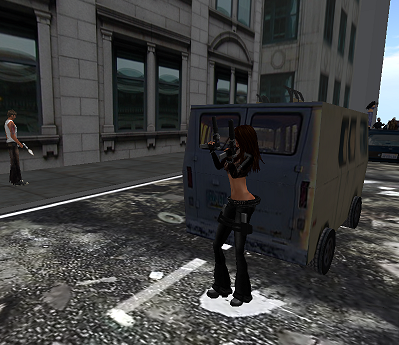 I first ran, then got eaten, then died, miraculously healed, then learned how to shoot my gun and then in the end I was a zombie killing machine. *Giggle* SO MUCH FUN!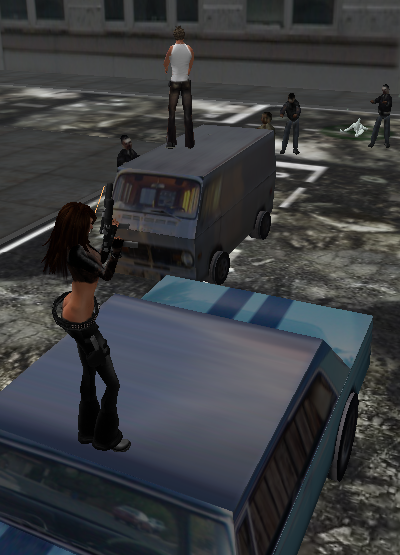 My teacher Senor Boss was very patient with me and even forgave me for leaving him in the street to be eaten while I ran away. *Giggle* I said I was sorry! I'll warn you all now if the zombies are munching on you and not on me…I'm HAPPY! When I learn what the heck I'm doing I promise I'll try to save you. But until then this newbie zombie killer is running just as fast as her little feet will take her and laughing the whole time!
If you've never done this on SL I would highly recommend it for fun! Bring friends, it's so much cooler! We've got another zombie infested city to explore soon that some of my other friends gave me the landmark for last night so my guns will be out soon again. *giggle* Zombies of SL BEWARE! Your giggling zombie killing Lolita is on her way.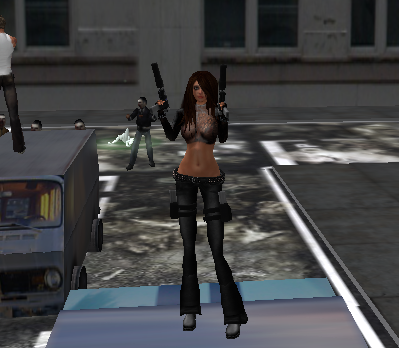 My zombie killing outfit was inspired by the ROCKN' blog called
FASHBANG
written by my friends and neighbors
Bone Mosten and Sehra Kauffman
. If you like what I'm wearing go check out their blog for more details.

Things to remember!
#1 Dress to kill zombies.
#2 Bring your own guns.
#3 Bring friends so you can act funny and have a great time.
#4 Don't run away while the zombies eat your friends like I did.
*Giggle*

Love Quote of the Day:
All love shifts and changes. I don't know if you can be wholeheartedly in love all the time.
Julie Andrews