Yes I'm guilty, naughty and proud of it! I had so much fun that night there wasn't anything I didn't do that wouldn't have ended with my mug shot being taken. *Giggle*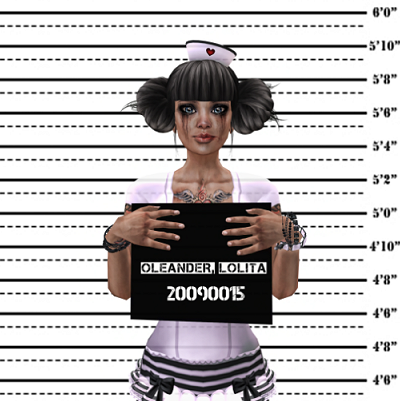 One of my
Plurk
friends
Darkley Aeon
was working on a project just for fun called "THE UNUSUAL SUSPECTS"
When she announced she was inworld taking mug shots I wanted to participate. The time zones were a little different for us but in the end we worked it all out and I'm so glad she took the time to take my mug shot! Thank you
Darkley
. (( HUGS ))
Here is a slide show of the mug shots she posted on
Plurk
.
Don't they just totally ROCK?! I just adore her creative work. She also has a photo spread in this issues of
Second Style
. You can see her great work on pages 42-49. If you are as interested in her work as I am visit her studio inworld called
Beethoven Photography
she has reasonable rates and is so worth it.
Love Quote of the Day:
Attraction is beyond our will or ideas sometimes.
Juliette Binoche