Last night we all went to a birthday party for our friend Bowen. We all dressed alike with the theme cake. *Giggle* Bowen's fiancee Mimi with the help of
Arwyn & Brin
decorated and planned the whole birthday sweetness. Mimi knows her Bowen well and said he loves his cake so there you have it!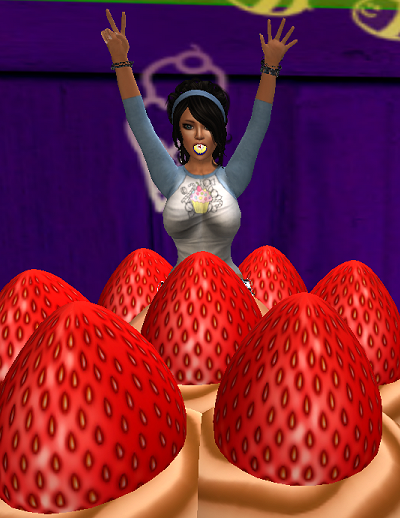 We all had the same shirts in differnt colors. On the shirts was this cute little cupcake. Yes this is a picture of me on top of the birthday cake with a lemon cupcake in my mouth. I was starting my sugar high early! *Giggle*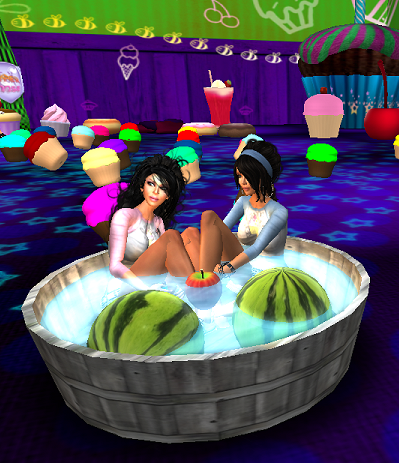 We had just finished partying at
THE MILE HIGH CLUB
and Ravven and I wanted to rest our dancing feet for a few. Nothing like a cool dip in the radioactive watermelon tub. *Giggle*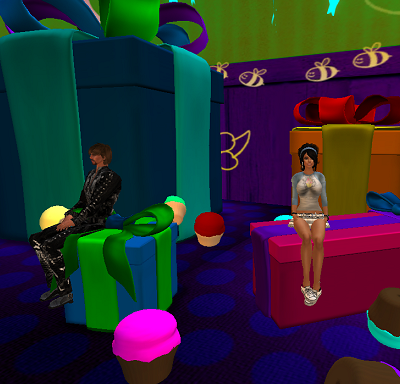 Basil and I tried to shake Bowen's gifts but they were entirely to BIG! So we decided just to sit on them and guess what was inside them.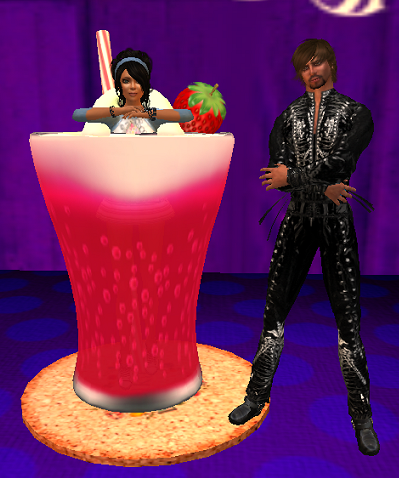 I got a little thirsty while eating cake and dancing. Basil was so kind as to bring me a drink. He always over does things. *Giggle*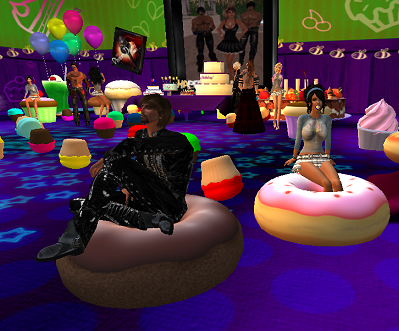 Did I mention I ate too much SUGAR last night?!?! *Giggle* I had a BLAST doing it too!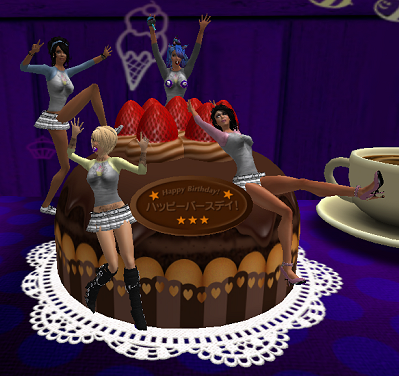 Ravven,
Arwyn
,and me totally taking over the chocolate cake. Yummy Yummy! And yes if you can see,
Arwyn
does have berry flavored cupcakes on her tat tats and umm...they talk to you when you touch them. *Giggle* So I've heard...hee hee.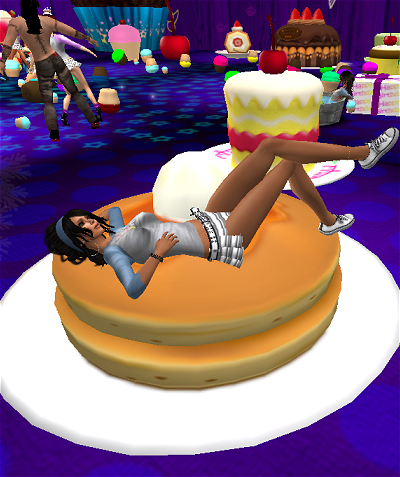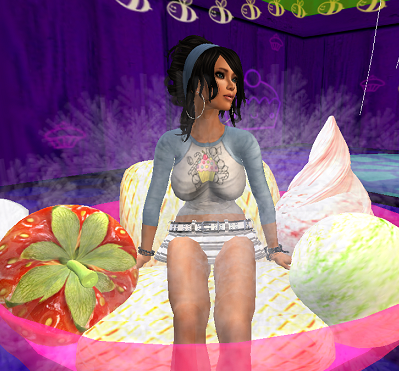 It wasn't my birthday but I totally felt spoiled last night.
Arwyn & Brin
gave us all party favors that are by far my favorite sweets in SL right now. Cupcakes for all parts of your body. *Giggle* A totally awesome cupcake thrower that I wasn't so bad at. I do have to admit I got bonked on the head a bunch of times from my fellow birthday party animals. They even gave us all a birthday party enlightened hat that I should have taken a picture of because it was SO GREAT! Maybe later I'll put it on for you all. *Giggle* When you have a chance and want to explore a store stop by their place
Obsidian Desires & [NeverM0re]
. They've got the coolest stuff. *Smiles*
Yeah for birthday parties, friends, dancing, and CAKE!
Love Quote of the Day:
There are never enough I Love You's.
Lenny Bruce