Our good friend Mimi is getting married this weekend on Saturday, October 24, 2009. So all the girls got together for Mimi's bachelorette party! We all wore our PJ's and grabbed our popcorn, sunk into our beanbags and watched a movie.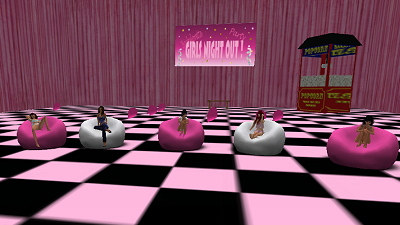 The movie we watched was called "Bride Wars". It came out in 2009 with Anne Hathaway and Kate Hudson in it. It was cute and was the perfect movie to watch seeing as we all will be going to a wedding soon. *Giggle*
There were some funny parts and some of the ladies at the party were funny drunk. I enjoy every moment I spend with these friends. They make me laugh and they really are so very sweet to each other, it's one big happy family. I'm sure you're asking where were the male strippers right? Well that tradition was frowned upon by the groom and it was decided that this PJ movie girls night out party would be just as fun. I had a great time and I'm so happy my friend is getting married on Saturday. This was my frist bachelorette party on SL and this will also be the first wedding I'll be going to. I'm very excited and happy for my friends.
Love Quote of the Day:
Love is the master key that opens the gates of happiness.
Oliver Wendell Holmes