I loved yesterday's paintball birthday party! As many of you know yesterday was Boss's Birthday and we had a major Paintball party to celebrate. I'd first like to thank
DePaul University, College of CD
for letting us have the party at their sim. They were so accommodating and helpful. It made the whole event perfect. They help you with any questions and have a vast array of knowledge. If you haven't been to this sim you really should visit, there is so much to explore! They don't only have paintball but so many other things you can see like, a race track, underground hidden areas, and a structure that falls apart while climbing it but magically repairs itself. You've got to explore.
I had so much fun decorating for the paintball party. I found some really cute things that I'm going to reuse for my home land for Christmas because we've pretty much decided we're doing a gingerbread theme full of sweets. I also want to give a (( BIG HUG )) to my friend
Arwyn
because she made some amazing decorations for the party. When you have a chance stop by her store
Obsidian Desires & [NeverM0re]
. They've got the coolest stuff and she's super creative.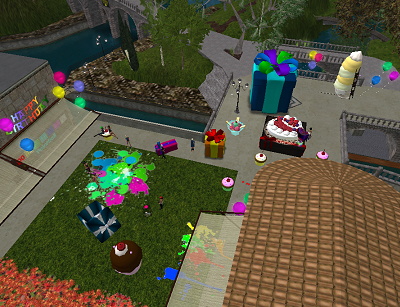 I also made a few things for decoration. I don't build very much at all because I have no idea what I'm doing. But with the helpful guidance of my patient teacher Boss I made a few decorations and had a blast! I made the big paint spattered mess and I'm proud of it. *Giggle*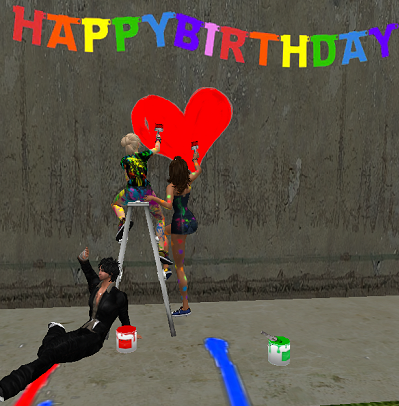 I put presents, cakes, cupcakes, ice cream and balloons everywhere. *Giggle* I couldn't help myself. I was putting finishing touches on a wall when our dear friend
Lysistrata Szapira

joined the party. She looked totally cute in her paintball outfit but like myself looked like a very bad paintball player seeing as we were covered in paint!*giggle*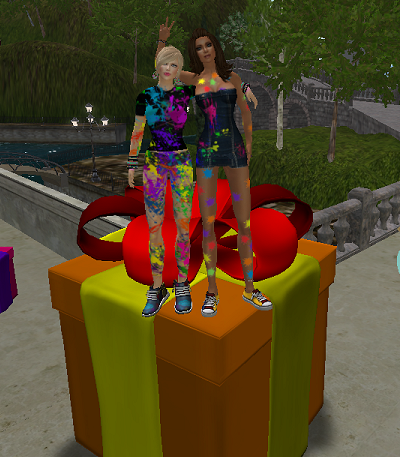 After I had put her to work painting with me I decided I would share a cupcake with her and gave her the cherry on top! She really wanted it. Hee hee!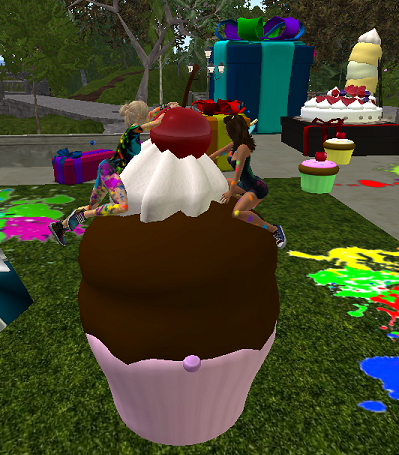 A bunch of our friends joined us in celebrating, donned their paintball gear and took off chasing each other around the sim. We had the fabulous DJ Sam rocking our tunes. You could hear us all on chat laughing and joking about being hit by paintballs. I've never seen so many people get tossed up in the air. If you haven't played grab your friends and head on over. It's tons of fun!
It was great to be surrounded by friends and to hear them laughing. The birthday boy was happy and enjoyed shooting everyone he could. So the whole day was a win win for us.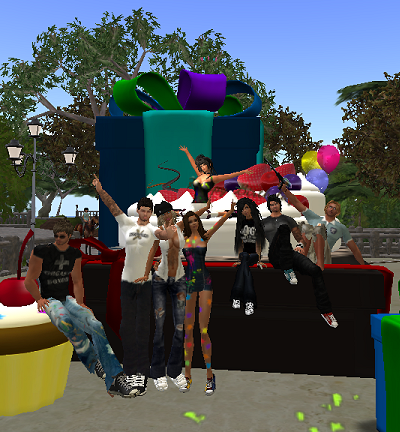 Thank you to all our friends who stopped by to wish Boss a happy birthday. It means so much and made us smile to have you celebrate with us. Plus, I liked shooting you a lot. *giggle* I will not confirm nor deny how many times I got shot with a paintball. It was less then a million and a little over a hundred. *Giggle*
Love Quote of the Day:
Love is suffering. One side always loves more.
Catherine Deneuve