Kittylicous
owner
Gypsy Helendale
is participating in creating some special content in honor of Breast Cancer Awareness Month. She's made two cute tops and a cute pair of shorts.
When I saw her post the picture of her creation on
Plurk
I knew I had to have the "Save The Hooters" shirt! *Giggle* It was just too cute to pass up! Come visit her store called
Kittylicous
located at Glitterati.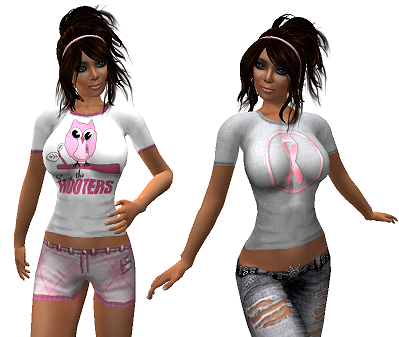 Both tops & shorts came from:
Kittylicous
Hair I'm wearing:
TRUTH
- Twiggy
Skin:
[RockBerry] Skins and Shapes
- Uma B Tan
Ultra Low Rise Jeans:
ALESSANDRA
- Blackbelt Black
Love Quote of the Day:
Love is never wrong.
Melissa Etheridge