I've read so many of these wonderful "Love Thursday" blogs I couldn't wait to start adding my own. So here is my first of many "Love Thursday" blog notes. *Smiles*
We love doing hunts in SL. In June of 2009 we discovered the Just for the Men! Hunt. I was looking for things to help Basil find more clothes. From what I've seen around us ladies are very lucky and have a wide assortment of designers. I'm so sorry for the guys because it's not so easy. So this hunt was perfect and it was our first. We had a blast and did the whole thing. We met some really nice people in our hunting travels and laughed a lot. There were turning points in some of the stores when we wanted to give up! We had some help with the clues and it would have been so slow without them and I'm glad we found this blog site
The Hunt Locations
. It took Basil a month to unpack all his goodies.
We love the challenge of hunts. We wish we had time to do more and we wish they would magically go perfectly unpacked into our inventory in an orderly fashion. Hee hee! Dream on right!
While I'm at some stores I landmark them because I know I'll want to come back and look around. Basil hunts like he shops in RL. He makes a list and goes for that thing and is out of the store in seconds. I wonder around looking and awing at the things in the store. Next thing I know he's requested a TP for me to catch up to him. *Giggle*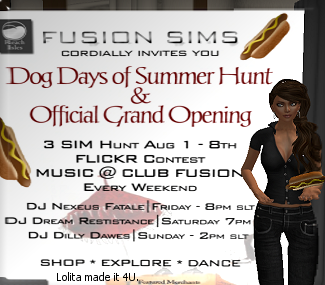 I found those hotdogs and I ate them all! *Giggle*

I've searched in hunts for male symbols, hats, books, cupcakes, hotdogs, watermelons, cat paws, glass slippers, magnifying glasses, and beach balls.
I've received some really great things and some really crazy things from hunts.
Don't ask me what I'm going to do with this Watermelon tub. *Giggle* Yes I'm bonding with my melons and no I don't talk to my fruit before I eat it. Plus, on the positive side I've heard some fruits and vegetables help the fine glow of your skin. Am I glowing?
Tonight I'm going to do the "A Midsummers Night Quest Hunt" Your suppose to be looking for 12 blue glowing moons. Someone said to set our settings to midnight. Sounds fun and I alway love the ambience of the midnight setting. There is just something about a sky full of stars that just makes me happy.
This August I might try to do the Crayon Hunt, The Skipping Stones Hunt and the Lovebirds Hunt. In the perfect world of unlimited time and hours in our day. *Giggle* I would love company in my hunts so if anyone else loves these crazy things let me know or invite me to come along another pair of pretty eyes couldn't hurt.
Love Quote of the Day
We may give without loving, but we cannot love without giving.
Bernard Meltzer