Friends in RL & SL are such a blessing to have in one's life. We are happy to report that we have a new resident living with us on our land. Our dear friend Ranger Farshore moved into our guest house last weekend. We made him his own little piece of paradise on the front corner of our land. It's nice to have our friends close. The really cool thing about Ranger is that Basil and I know him in RL also. He's a very down to earth sort of person with an easy going witty personality. Ranger started his SL adventure a few months after Basil and I. He heard about all the adventures and misadventures that Basil was having on SL, which convinced him to create an avatar and join the SL party. Ranger's first house was at a place called SIP's Cafe, where Basil also had a house. After about two months, it was time for a change and we convinced Ranger to hang out at our guest house.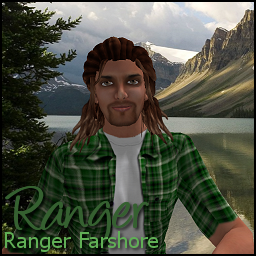 He has been the model resident, never any loud parties, and he always keeps his place clean *Giggle* Such a nice person to have in our lives. We told him "Mi casa es su casa".
I've also saved a room in the main house for another RL friend who we will introduce to SL next month. Antony will be visiting Basil and I in September and that's when we will help him get started with SL. We think this might be just up his alley. *Smiles* If he does enjoy SL we have reserved a room for him in our house. So maybe soon we'll have a roommate. *Smiles* Good things to come. More friends to hang out with and surround ourselves with. Life is good.
Love Quote of the Day:
People protect what they love.
Jacques Yves Cousteau