I had one of those adventurous weekends! A house was deleted, new mountains were formed, and I visited dragons. I was TPing across the grid for a new tattoo and discoved this great place to visit dragons. They were very nice but didn't talk much. One was so big it almost pushed me off the side of the cliff. Lucky I can fly. Yes, that's one of my super Lolita powers that and the ablilty to buy the most hugest items on the market. *Giggle* The place I visited was called
Creative Hearts
Here are a few pictures of me and the dragons.



I just love exploring and finding cool things like this.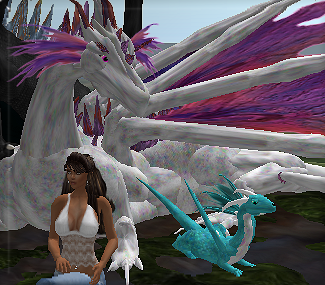 After I left the dragons I found another really cool place.
Skeet Shooting Area
I had fun! This is my kind of shooting. Second best to paintball. If you ever want a challenge just ask. I'm very competitive. Hee hee!
Love Quote of the Day:
Laughter is the brush that sweeps away the cobwebs of your heart.
Mort Walker