I just love my new hair as you can tell. *Giggle* I bought it from
A&A
and since then I haven't changed my hair style. If you join
A&A's
group every Friday they place out a new group gift. Go visit and check out what they have to offer.
The weather here in Arizona is getting cooler and I feel the need to dress warm. *Smiles* I adore my oversized cardigan from
Fishy Strawberry
. I like it so much I went over yesterday and bought every color they had in it. *happy sigh* Keep warm and cozy everyone because I know I am.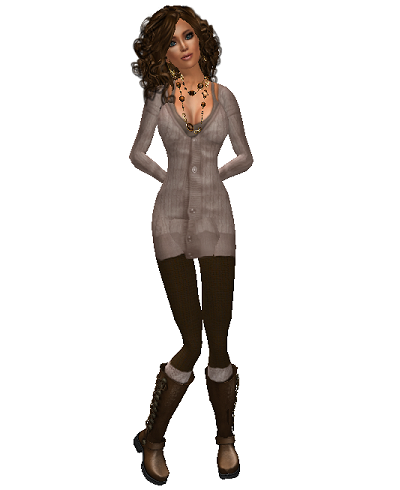 What I'm wearing:
Hair:
A&A
-Darla Hair Brunette
Cardigan:
-Fishy Strawberry
-Oversized Cardigan w/socks(Brown)
Under shirt:
fri.day
-Layering.Tank - Scoop (Brown)
Tights:
-::Duh!::
- Basic Knit Tights
Shoes:
Kitheres
-Backlaced Boots DarkBrown
Jewelry:
Zaara
-Karmuka necklace *wood*
Poses:
Glitterati Poses
Love Quote of the Day:
If you judge people, you have no time to love them.
Mother Teresa