Don't you just love hanging around your house wearing comfy clothes? I know I do. *happy sigh* When I saw this camisole it was the design that WON me over. I just love it and the words well...they are just the cherry on top. *wink*
I TPed over to
blowpop
and grabbed up the whole collection of colors. When you have time go on over and take a look around. I also wanted to share with you some of
SiSSi
jewlery. It's quickly becoming a daily item on my body nowadays. I don't leave home without my bracelet and they have some of the coolest things for your mouth. *Giggle* I promise to blog some of my favorite's soon. Explore the stores you won't be sorry.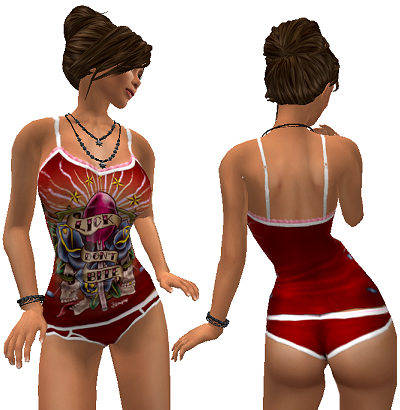 What I'm wearing:
Hair:
TRUTH
-Chelsea
Top:
blowpop
-Blue Roses Print Camisole (Dark Red)
Bottom:
blowpop
-Cassie Low-rise Boyshorts (Dark Red)
Jewlery:
SiSSi
-Rock mah Skull Necklace and Blackbracelet
Poses:
Long Awkward Pose
and
Glitterati Poses
Love Quote of the Day:
Ultimately, we wish the joy of perfect union with the person we love.
Mortimer Adler