Tonight a few of my friends and I went exploring RUNE'S
ALPINE DEATHRACE 2000
. I heard about it and really wanted to see what it was all about. I've been in the kill'em beat'em up sort of mood so this was the place to explore. *Giggle*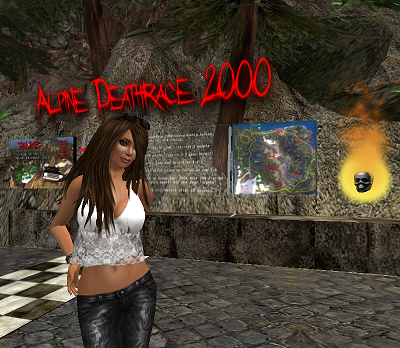 Once you get there you'll see the sign of instuctions and the map showing you the race course. On the side you'll see rez stations for you to pick up your ATV Moster/Normal or BIKE. Then you pull up to the starting line and say READY-SET-GO!
The view is amazing it's so pretty and the whole environment is kick butt! All you have to do is follow the red arrows, numbers and stay on track on what lap you are on. A plus is you can also jump your ride. You'll see what I mean when you visit! Hee hee!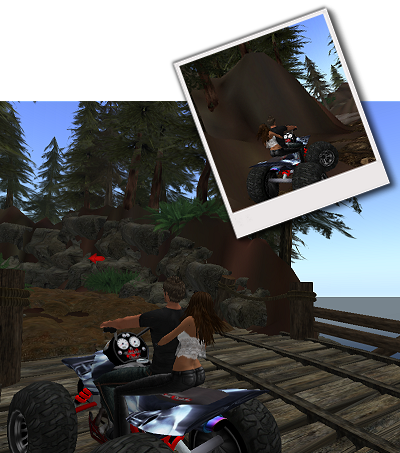 At fist I thought, "Oh this is just a pleasure ride in the mountains." Then as we turned a corner BIG BLACK BEARS attacked and followed us! Did I mention you can die on this sim?!? Well umm... you can so RUN fast or in some cases RIDE fast!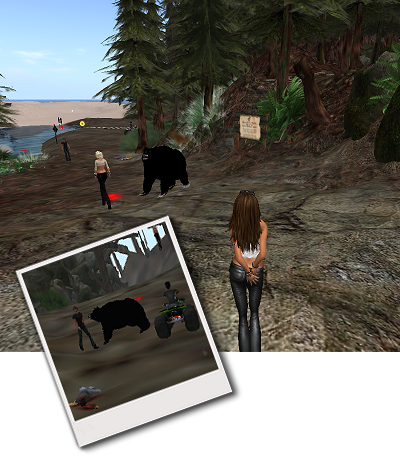 There are bears, zombies, spikes, lava, mud pits, sharks & bolders that you must try to avoid while racing. All of which can in some way harm or worse KILL YOU! The funny thing is if you were on voice with us you would have been laughing so hard because I was screaming and yelling "RUN BEARS!!!" I had so much fun! Hee hee!
*Rasing hand* I do have to say that JAWS ate me while I was drowning in the water running away from bears. *Sniff sniff* They posted warning signs and I read them. I just didn't belive that I was something the shark wanted to eat but I was sooo wrong! I'm warning you now stay out of the water that shark is hungry! *Giggle*
After we finished the race which I totally lost at, we were lucky enough to get to visit with the creator of this really COOL place
Maxwell Graf
. He's super friendly and we had a few laughs about his killing creations. You really should visit and take time to explore
RUNE
. Take the race and then explore on foot. I set my person on "Always Run" because I was scared of the bears and zombies plus I wanted a quick getaway. *Giggle*
Love Quote of the Day:
For small creatures such as we the vastness is bearable only through love.
Carl Sagan