Sophia Harlow
has issued a blogger challenge called
Ch Ch Changess…NOW & THEN
. All you have to do is post a SL picture of what you use to look like when you first started SL and a current picture of what you look like. She wants all of us to get retro and show our mug shots. *Giggle*
So I went digging into my inventory and found some of my old things! Yikes I really need to clean this stuff out. Why oh why do I keep this stuff when I don't wear it! *Shakes head and pouts* Well I'm glad I kept it for this blog challenge and after I take a picture it's so getting deleted. My inventory is out of control but that's another story for another day. Hee hee!

Here is my before and after shots!
My changes in SL in a year time frame.
2009-2010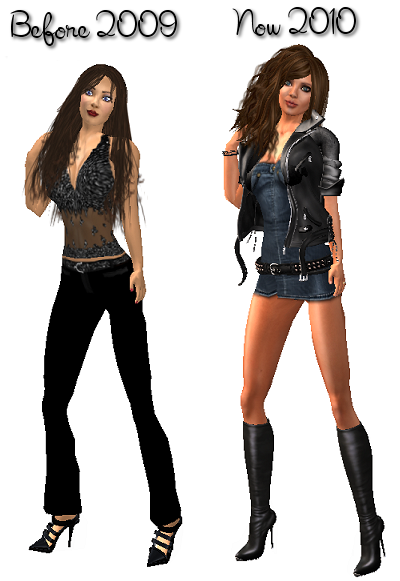 I'm still learning. I'm still growing. I learn something new every day and I'm enjoying every moment of it!
What I'm wearing in my BEFORE Picture:
Hair:
-+ RocX +-
-Bittersweet Hair - Brown
Everything else:
Freebies By The Sea
What I'm wearing in my NOW Picture:
Hair:
Truth
- Avery
Jacket:
Aoharu
-RollupRiders JK With Denim Black
Dress:
-[Plastik]-
-PrototypeDenim-PLAIN-Cirrus
Belt:
.:Hermony:.
- Rock`nRolla-Belt (Black Rust)
Shoes:
BAX
-Prestige Boots Black Leather
Poses:
LAP
Love Quote of the Day:
More than kisses, letters mingle souls.
John Donne