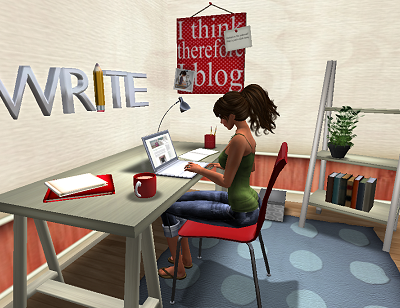 The Big Bad Blogger Challenge
has started and this is my first year participating. I can't wait to read everything all the other bloggers have to write about. I'm excited about this! Here is the first Topic:
Why did you become a blogger?
How has it enriched your life?
I started my SL blog
¿Qué Pasó?
on August 3, 2009. My first post,
Woo Hoo I'm Taking the SL Blog plunge!
was fun, exciting and scary all rolled up into one. I wanted to share all the wonderful cool things about SL that I was discovering. I saw so many people sharing their SL adventures it looked like fun! I thought, "I could do that!" I became a blogger to express and share what I was doing in SL and it is something that has made my SL more enjoyable 100%.
Starting my blog has brought me so much joy. I've gained so many new wonderful friends. I learn so many new things from my fellow bloggers every day. I am a part of a bigger picture that makes up my SL world. I encourage anyone who wants to start a blog to take the plunge and jump right into the blogging world.
What I'm wearing:
Hair:
Truth
-Drew
Top:
Mischief
-Afternoon Tank - Olive
Pants:
MALT
-Recycled Jeans
Shoes:
Surf Couture
- Freedom Flops - Dark Brown
Furniture:
{what next}
-Bloggers Office
Love Quote of the Day:
Immature love says: 'I love you because I need you.' Mature love says 'I need you because I love you.'
Erich Fromm