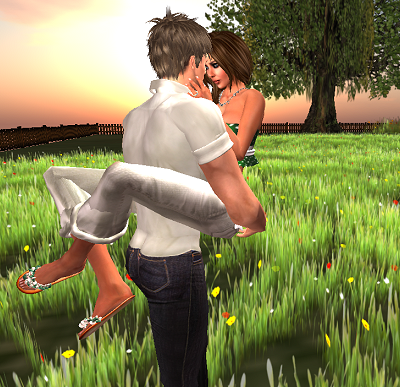 Day three of
The Big Bad Blogger Challenge
. Here is the third Topic:
SL Bloggers - How hard do you think it is to find a relationship in SL? If you have an SL relationship, have you met in the physical world?
Would you meet them? Do you think it would change
your SL relationship if you met?
I don't think it's hard to find a relationship in SL. Keeping it and working on making it last is what I see being the hardest part of SL relationships. I've seen so many SL relationship happen around me. I've seen them work and turn into my friends happily ever after and I've seen them crash and burn.
I like working on my friendships in SL. That seems to keep me busy and happy with my SL life. *smiles*
I've seen quite a few of my SL friends meeting their partners in real life. They seem so in love still when they return back home from their visit. It makes me smile that their love clicked in the face to face meeting. I do believe the SL relationship would change if you took it out of the virtual world. How could it not grow? That would be my guess. *smiles*
If you be your true self and share all you can with that special someone, I think finding that best friend could be possible.
What I'm wearing:
Hair:
Truth
-Zara
Top:
Boom
-Dot Dot Tube Top Green
Pants:
Zaara
-Chinos *white*
Shoes:
**DP**yumyum
-Candy Sandals/green
Poses:
MEYA
What he's wearing:
Hair:
Uw.St
Top:
Weird Monkey Design Indust
Pants:
*ARGRACE*
*
Love Quote of the Day:
Love begins by taking care of the closest ones - the ones at home.
Mother Teresa