Day two of
The Big Bad Blogger Challenge
. Here is the second Topic:
"Write about three positive things going on in your Second Life."
There are a lot of positives in my everyday SL. They are the reason I keep logging in each and everyday. My biggest positive of all my SL existence are my friends. I have my
Plurk
friends to help me make it through my work day. Then I have my SL/Plurk/WoW friends to hang out with me at night. There are so many things we all do together. We goof off, explore, play games, run around playing tag, kill zombies, dance or just sit around watching movies. We celebrate birthdays, rezdays, marriages, and holidays together. My SL is what it is because of each and every one of my friends. I've fallen in love with many of their hearts. I love joking with my friends and enjoy how we make each other laugh. Time in SL flies by fast when you are having fun.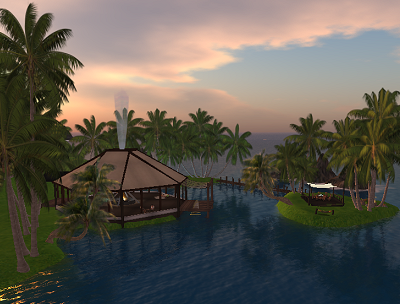 My second positive of my SL world is the place I call home. Some days I don't even have to TP out of my home. I enjoy just hanging out there and relaxing. If you've ever visited my home you'd know it's so me. *Giggle* I could change my house or the landscaping but some of my favorite home things will always be around. I'm still learning how to build or to change textures but my little place I call home is where I learn and where I grow each and every day. It's filled with things I enjoy and love about SL. Surround yourself with beautiful things you love and enjoy every moment.
My third positive of my SL world would be adventure! I mean how often can you say, " I want to visit Paris France today" and TP there in the next second? Just the other day I went treasure hunting dressed like a turtle. I even visited a land that made me think of Alice in Wonderland. You can visit The Great Wall of China in SL if that's something you wanted to explore. The possibilities are out there you just have to go for it and explore.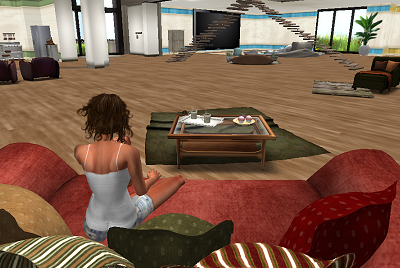 What I'm wearing:
Hair:
Truth
-Mena
Top:
Fri.
- Basic Cami - White
Shorts:
::Emjay::
-Patchwork Shorts
Shoes:
Surf Couture
-Shoelace Sandals - White
Love Quote of the Day:
Love takes off masks that we fear we cannot live without and know we cannot live within.
James A. Baldwin