On Saturday I had to find something to wear to kill zombies in. I was told that they were invading a sim where my friends live and I was invited to join in the kill fest. Hee hee! So I got dressed up climbed in my
Glitterati Sci-fi hallway
and posed for you.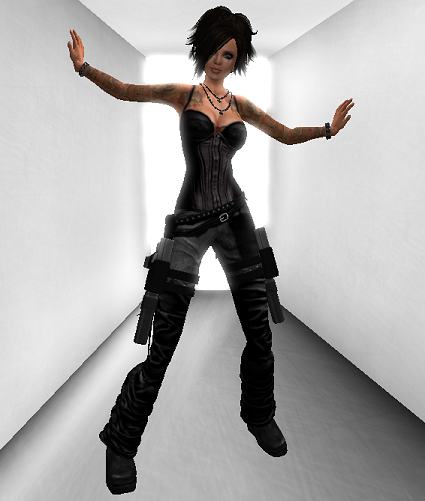 Our amazing friends and owners of the
TempTationS NightClub
held a party for BossHog Daxter in celebration of his 1 year rezday. They created a whole sim dedicated to killing zombies. It was one of the most amazing set up's I've seen in a very long time. Lots of creations for this party came from
Obsidian Desires MainStore
go check the store out when you have time.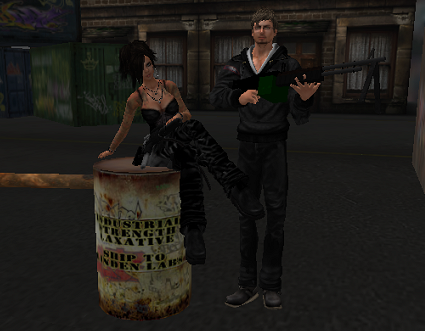 As you can see below I didn't make it.
The zombies got me in the end! There was so much blood! Hee hee

I had so much fun on Saturday night. I want to thank all my friends who put this party on and I'm so thankful to have you in my life. It was great to see so many friends there killing zombies right along side of me. I LOVE YOU GUYS!
What I'm wearing:
Hair:
TRUTH
-Pamela
Top:
Plastik
-Courtesan-Black top only part of a dress.
Corset:
Trilobiteware
-Leather V Underbust Corset - Coal
Pant:
:SEY
-Rider Chaps [black]
Tattoo:
Garden of Ku
Tattoo Ghost Geisha
Necklace:
*SiSSi*
-Rock mah Skull
Boots:
:SEY
Layer's boots[D]Knit
Guns:
Rapture
-MAC-107 1.1
Poses:
Glitterati
-Sci-fi hallway