I signed up awhile ago to share in the creativity on the blog site
Two Three Six Five
. Little did I know that I had the date of Mother's Day. I wasn't even trying for that date at all and I consider myself lucky because it's such a wonderful day of celebration.

Please take the time to check out the blog
Two Three Six Five and read what I wrote. *smile*
I'll share with you the picture I added to my submission.
(( HUGS ))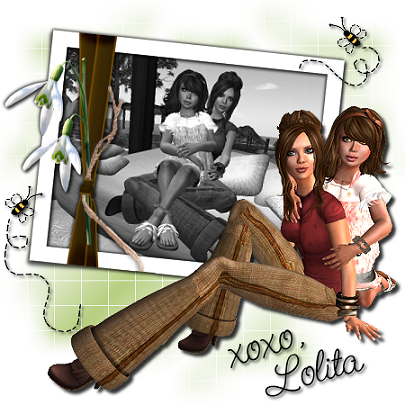 Happy Mother's Day everyone! Mwah

What I'm wearing:
Hair:
TRUTH
-Michelle
Top:
[ATOMIC]
-Frilled - Brick
Pant:
*BOOM*
-Fall Tweed (Cocoa)
Jewelry:
Zaara
Shoes: ETD -Kristin Booties (Chocolate)
Poses:
Glitterati
What mini me is wearing:
Hair:
TRUTH
-Nadia
Whole outfit:
Babydolls Boutique
-Maddie
Shoes:
Surf Couture
- Shoelace Sandals - White
Poses:
Glitterati
Love Quote of the Day:
Love is not only something you feel, it is something you do.
David Wilkerson