When I saw the new
AOHARU
knot shirts I had to go buy one. *Smiles* So cute and are made so well. I wore it over my new
*Linc*
open buttoned dress which are really sexy. I'm really going to have to go back and get another one in a diffrent color maybe a red.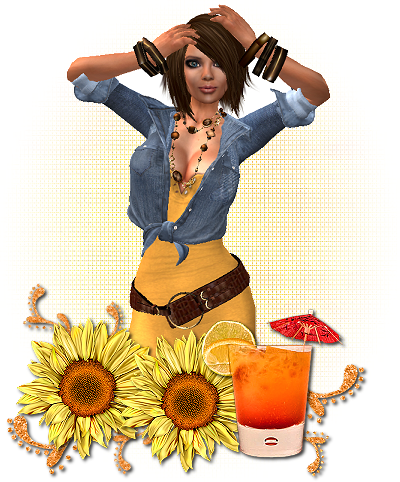 I also got really excited when I was given a surprise gift *points to my feet* I adore my new
Maitreya Gold
shoes! I'm in the mood to go dancing now. Who's going to take me? *Giggle*
What I'm wearing:
Hair:
TRUTH
-Skyla
Over Shirt:
AOHARU
-Front Knot Shirt
Dress:
*Linc*
-Open Buttoned Dress Pastel Orange
Belt:
*COCO*
WideBelt_Brown
Jewelry:
Zaara
- Karmuka necklace *wood*
Shoes:
Maitreya Gold
-Shanti
Poses:
Glitterati
Love Quote of the Day:
Love is but the discovery of ourselves in others, and the delight in the recognition.
Alexander Smith